Share Your Knowledge,
Grow Your Brand
It takes 30 minutes to help shape the future of engineering management.
We'll take care of writing and promoting to our 1M+ developer user base.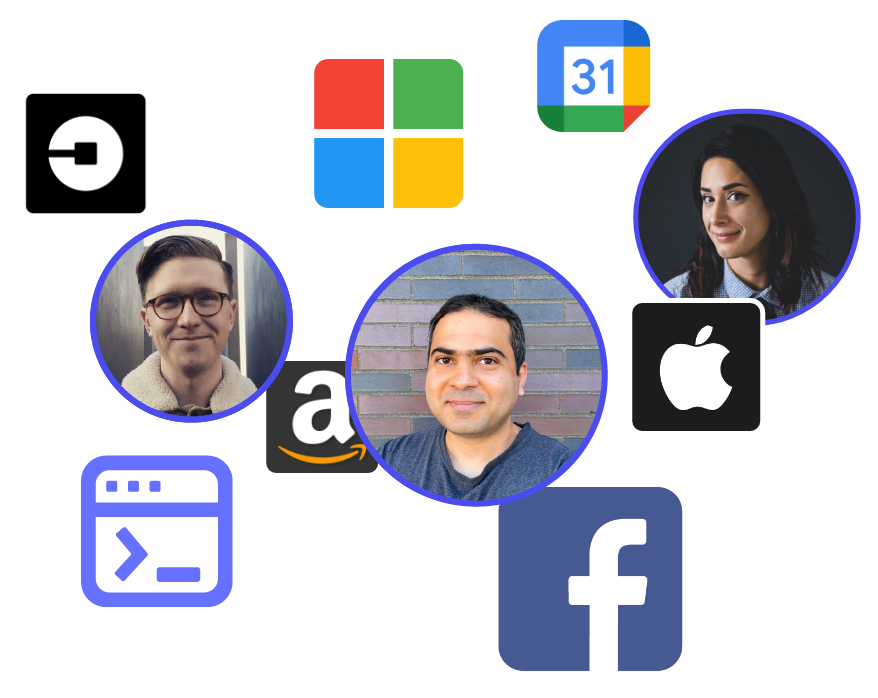 Join world-class engineering leaders from leading companies

Why contribute to EMHub?
We're all here because we believe that engineering management matters. Great managers lead great teams, ship great code, and empower great engineers.
Most engineering leaders we talk to love mentoring others—especially new and aspiring leaders. Our mission at EMHub is simple: to help curate these key learnings for the benefit of the broader engineering community. We can't wait for you to join us in this journey!
There are a few more perks of contributing to EMHub:
Build your personal brand –

The floor is truly yours to discuss any engineering leadership topic that inspires you!
Promote your company

– most EMs we talk to are actively hiring; you are always encouraged to share your team's work and culture.
Access a global dev community

– EMHub is powered by

Educative, a rapidly growing learning platform founded by developers and engineering leaders. Educative hosts over 350+ interactive courses with a user base of

1M devs and engineering teams.

Help us shape EMHub

– join us on the ground floor and help EMHub become the best resource it can possibly be.
Note that EMHub will always be 100% free and accessible to anyone who hopes to become a better leader. We look forward to partnering with you!
What is the time commitment to write an article?
We know how much work goes into being an EM. We know you're extremely busy. That's why our experienced ghostwriters and editors make contributing to EMHub as fast and easy as possible.
Depending on your desired level of involvement, you can expect the entire process to take 50 - 60 minutes
10 -15 minute intro call to select a topic OR asynchronously submit a topic and brief outline
30 minute informal interview with a ghostwriter
10-30 minute final review with our editorial team (asynchronous)
What topics would I write or talk about?
The short answer: Whatever inspires you most about software engineering leadership!
The slightly less short answer:
Tell your

engineering management story
Share your favorite tools, tips, and best practices related to

successful engineering leadership
Promote your

company or team's achievements
If the content might be useful to an EM (or aspiring EM) then it has a home on EMHub!
The longer answer:
Discuss

initiatives you tackled and challenges you faced—what worked and what didn't (sometimes those moments of

unsuccessful

engineering leadership can be even more illuminating than the successes!)
Offer battle-tested advice on

hiring, upskilling, and mentoring

developers and

scaling dev teams
Comment on topics in

technology, leadership, or organizational development

that are relevant to engineering managers
Share the

most impactful leadership lessons

you have received
Promote your

favorite leadership resources

(books, podcasts, blogs, workshops, etc. — there's a big world of learning out there beyond EMHub!)
Anything else that a current or aspiring engineering manager would benefit from learning
How long does it take for my article to be published?
On average, we can get your article ready to be published (graphics included) within two weeks of an interview.
Speak with our lead editor to get an accurate time estimate.
Meet our lead editor to find a topic that

makes

you tick
(15 min. gets you started)